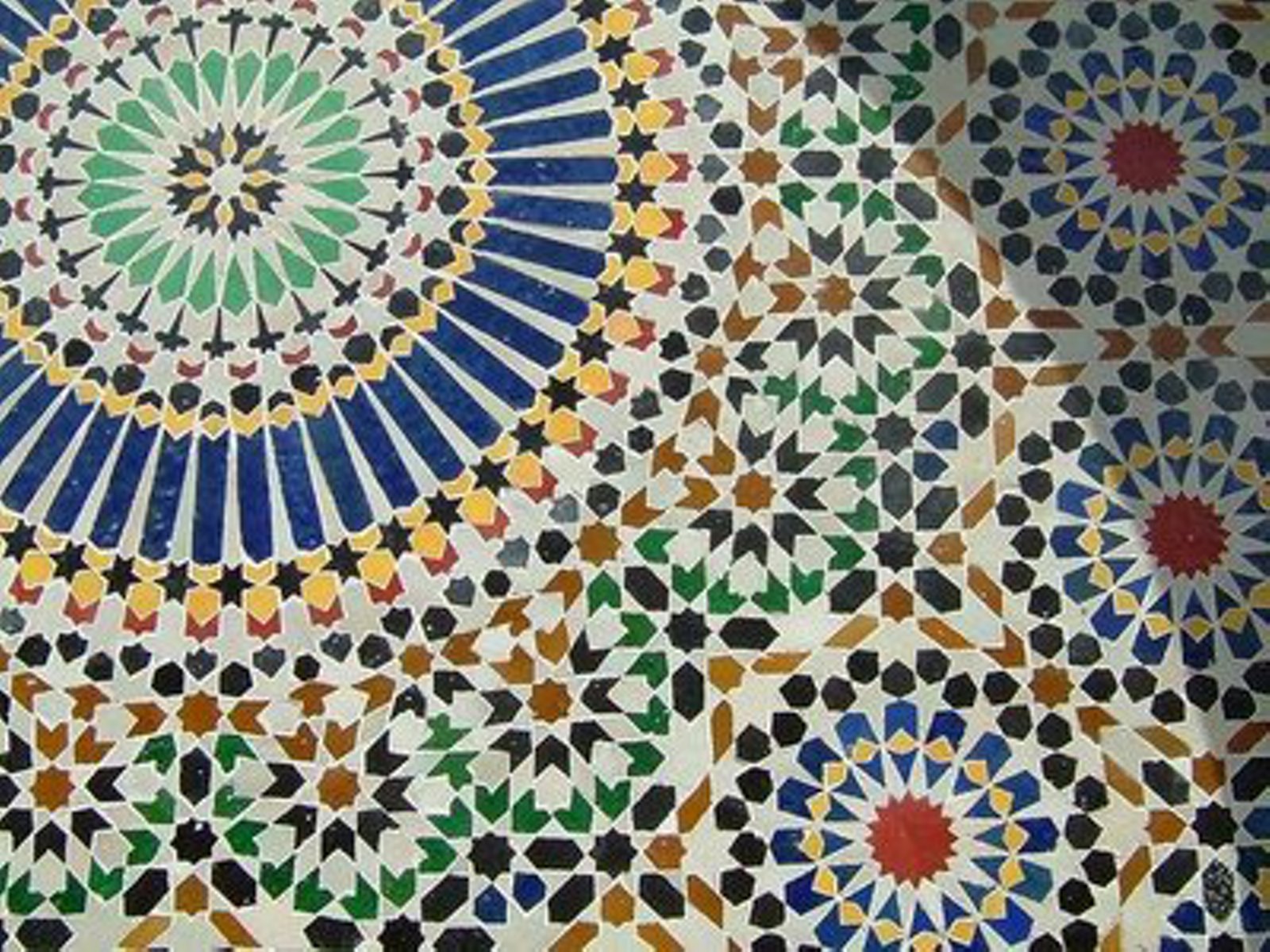 lovely Moroccan patterns
This was truly a feast, and that on a weekday. And it took only about 50 minutes to conjure it all up, sincerely, I kid you not. It is simply a question of logistics, culinary logistics if you will. This type of food is particularly enjoyable - bringing together a few simple courses. As I have mentioned before on my blog (and I keep repeating - probably to keep myself motivated) we in this household made a pact to cook and eat more of healthy and tasty vegetable dishes. And in this way we minimize our meat consumption - and when we do purchase meat, we get the high quality and well treated produce!
I am very fond of North-African food. I am of course fond of food in general but lately I have increasingly sought inspiration from cookbooks and recipes originating from that part of the world. I recently added two new cookbooks to my collection,
A Month in Marrakesh
by Andy Harris and
Whispers from a Lebanese Kitchen – A family's Treasured Recipes
eftir Nouha Taouk. Both of these are well made and beautiful to browse through.
What I find so compelling about the cooking from this region is the spices that are used. This is precisely what makes the food so different from what one is used to in European cooking. There is something about grinding a bit of cumin in a mortel, toasting it briefly on a pan to awaken that thick aroma, and then drawing a deep breath, which delivers you on lightening speed straight to the Middle East of the mind (yes ... it was only cumin, I am aware of that!).
North African Mesa-style Buffet; Lentils, Hummus, Onion Salad, Halloumi and Olive
Flat-bread
I began by making the bread. I just used my standard recipe - if you can even call it a recipe - it is more akin to an intuitive feeling for proportions. But let's try to get those proportions properly metric - the first thing I always do is awaken yeast in 300 ml lukewarm water leave to rest for about 5-10 minutes, and add a spoonful of sugar so the yeast has something to work with. Pour 500-600 grams of flour into a bowl, salt and 2-3 tablespoons of oil. Carefully add the yeast while stirring continuously. Knead the dough for 10 minutes (10 minutes is a good rule - just enough for all the ingredients to intermingle and fuse), and allow it to rise for at least 20 minutes. The bread is then brushed with oil, seasoned with salt and pepper, and then decorated with kalamata olives and a few caraway seeds. Baked in a pre-heated oven for 15 minutes.
While the dough was rising it is time to take care of other matters. Sliced two tomatoes and one red onion very thinly using a mandolin knife and distributed on a large plate. Drizzled some extra virgin olive oil and lemon juice over, seasoned, and decorated with a few leaves of fresh mint.

Flatbread & tomato/onion salad
I also made hummus. I used chic peas from a can which I drained and rinsed in water. Poured into a food processor along with 1-2 crushed cloves of garlic and blended. Added a pinch of salt and pepper, one tablespoon of tahini, juice from one lemon and 2-4 tablespoons of oil (or just according to taste). Before serving, I sprinkled a pinch of paprika spice on top.

Then I grilled halloumi on a smoking hot griddle and decorated with fresh parsley once done.

Humble hummus and grilled haloumi
Boiled 400 gr of Puy lentils in salted water for 20 minutes. Sliced two carrots, one white onion, two sticks of celery and 3-4 gloves of garlic and fried over medium heat for 5 minutes until soft and shimmery. I added to the pan a teaspoon of ground cumin, turmeric, coriander and paprika and fried for a few moments with the vegetables. Cut half a butternut squash into dices and fried with the rest. The mixture was calling for a bit of liquid, so I poured in a bit of water, allowed a cube of vegetable stock to join, and boiled. Then I added the lentils, seasoned well with salt and pepper and cooked until the liquid had evaporated. Check for taste, and this time I squeezed a little bit of lemon juice over. For the finishing touch, I sprinkled the dish with chopped fresh parsley!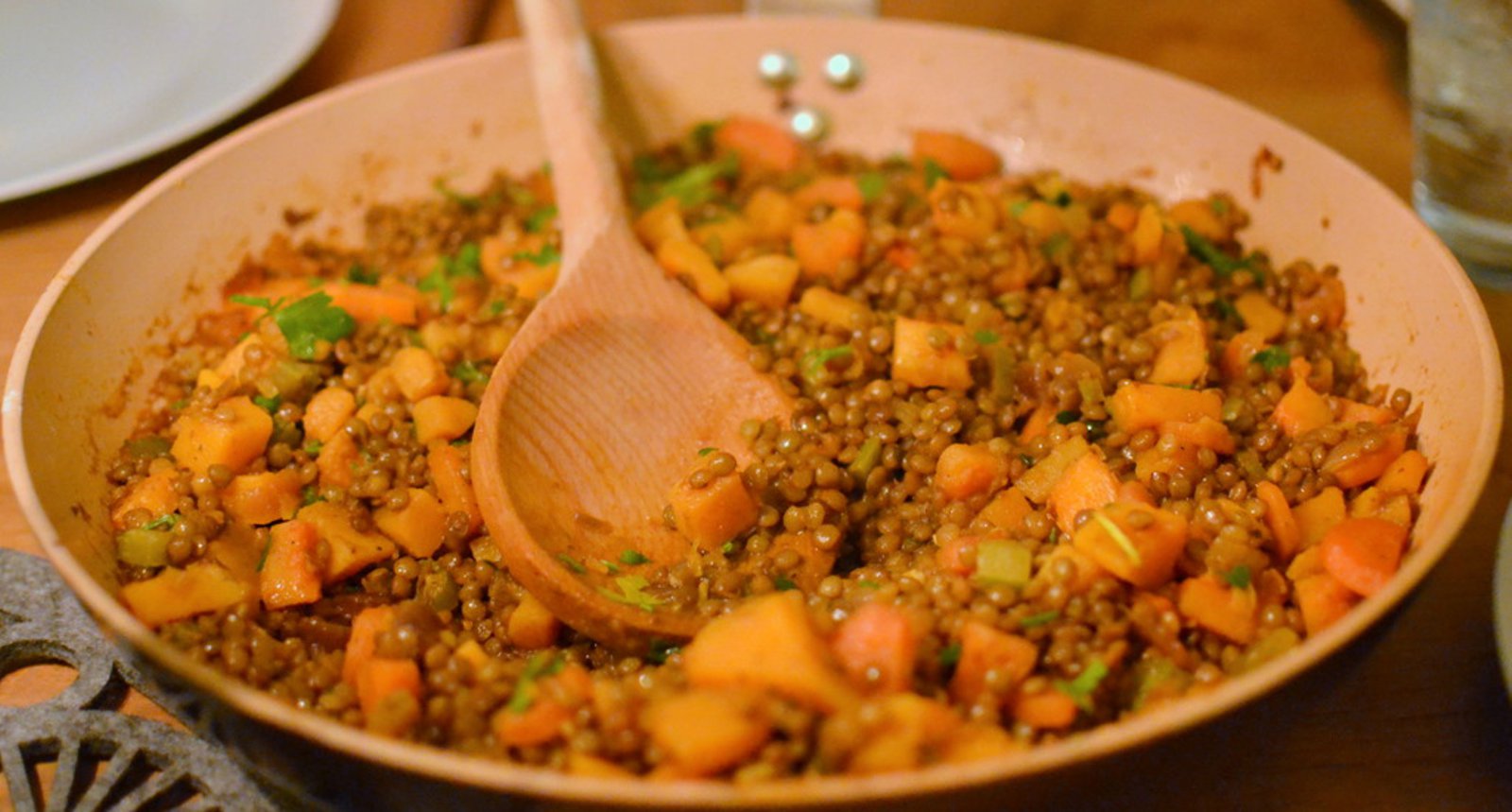 Puy Lentils & butternut squash
Bon appetit!