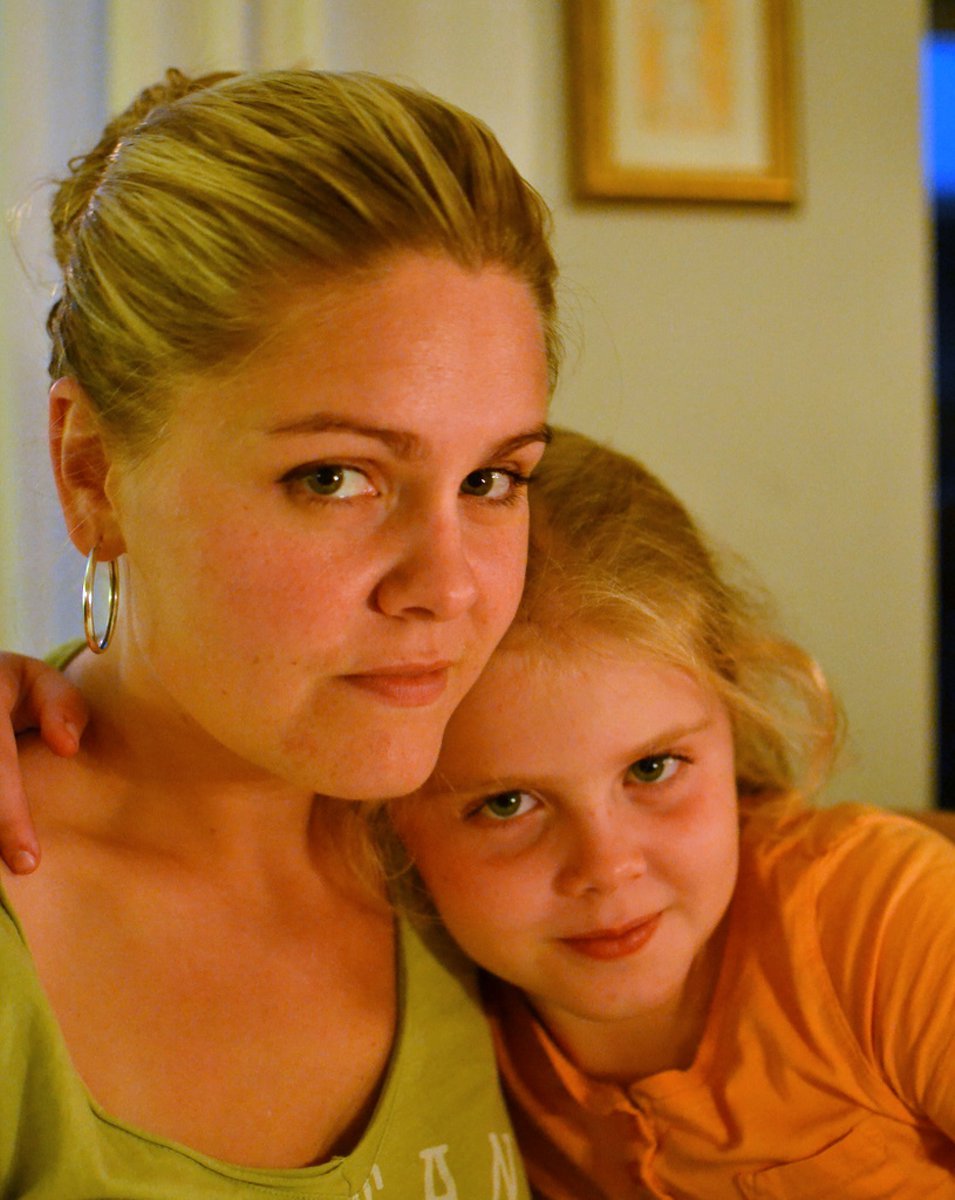 My lovely wife and my little girl
This meal was prepared last fall when my beloved wife celebrated her birthday. It just so happened that her birthday landed on a Monday, a weekday we try to go vegetarian, but because of the occasion we decided to to something special. We had purchased these tuna steaks from one of the local vendors, that drive around in their truck peddling fish from door to door. They are usually quite expensive but do sell quality products. This was of course not blue fin tuna but a distant cousin that is supposedly not in danger of being extinct!
It has been a while since I cooked tuna steaks, blimey, I think that it was even before my blogging days (late 2006 - check out www.ragnarfreyr.blog.is). I have had tuna when I am out to resturants and of course when ordering sushi an occasional sushi filet enters the mix. But I have always been hesitant about buying the in the fishcounter at my local fishmonger! They always look so brown, dry and gloomy and totally uninteresting. But blue fin variety is much more appetizing - but of limited supply! I don't know if their is any real difference in the flavor, a more experienced eater will have to help me on that matter!
Chargrilled Tuna Steaks with Horseradishsauce, Asparagus and a Petit Pois Purée !
First things first, make the sauce. This is a simple sauce made from light creme fraiche. I used just 200 ml and to that I added 2 mashed cloves of garlic, 4-5 cm of grated fresh horseradish, 1 tablespoon of syrop and seasoned with some salt & peppar. Mixed together and left to rest in the fridge while the other ingredients are prepared.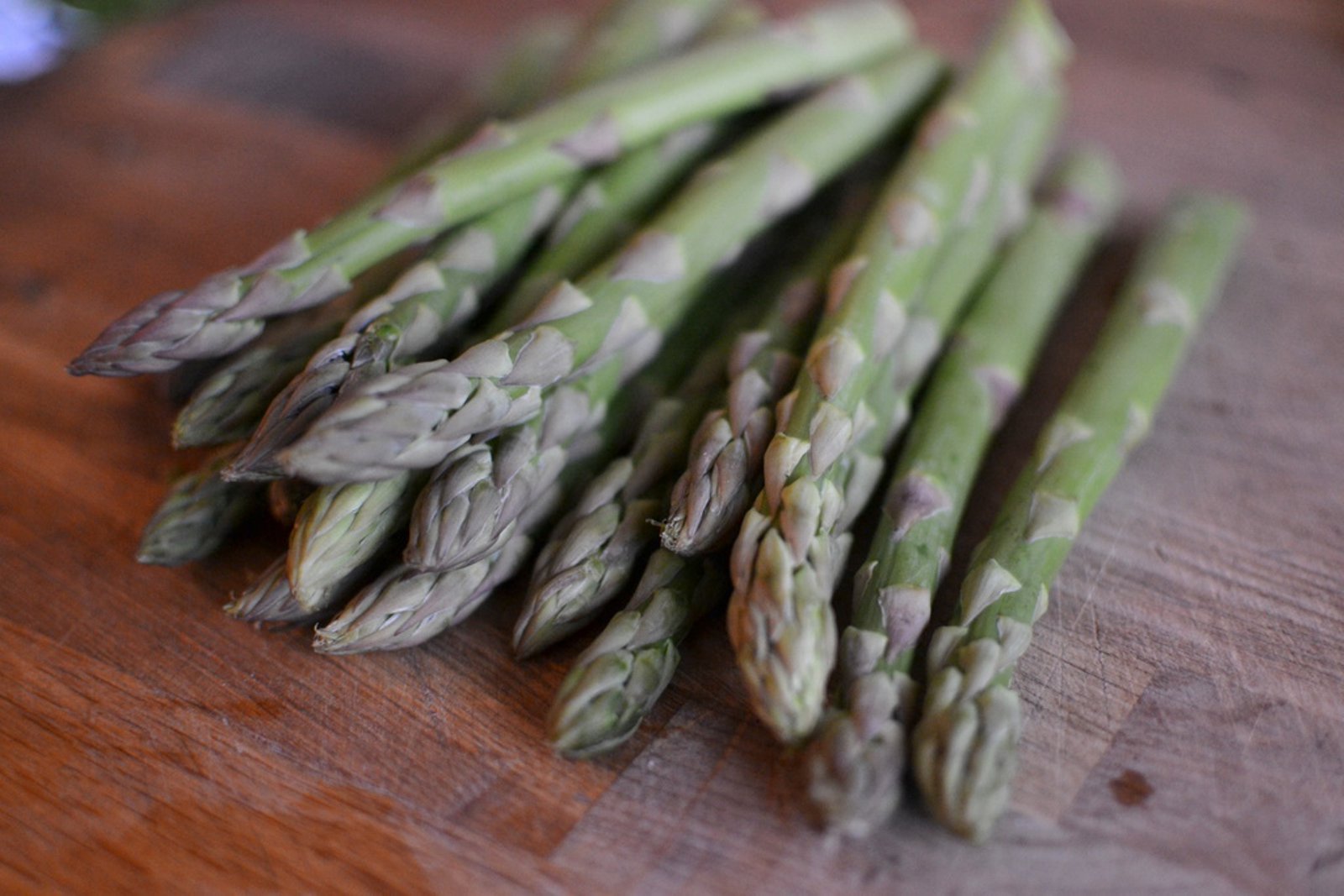 Asparagus
This could be considered fast food, as the preparing and cooking the meal can be accomplished in just a matter of minutes. Heat the grill. Brush the tunasteaks with oil and season with salt & peppar.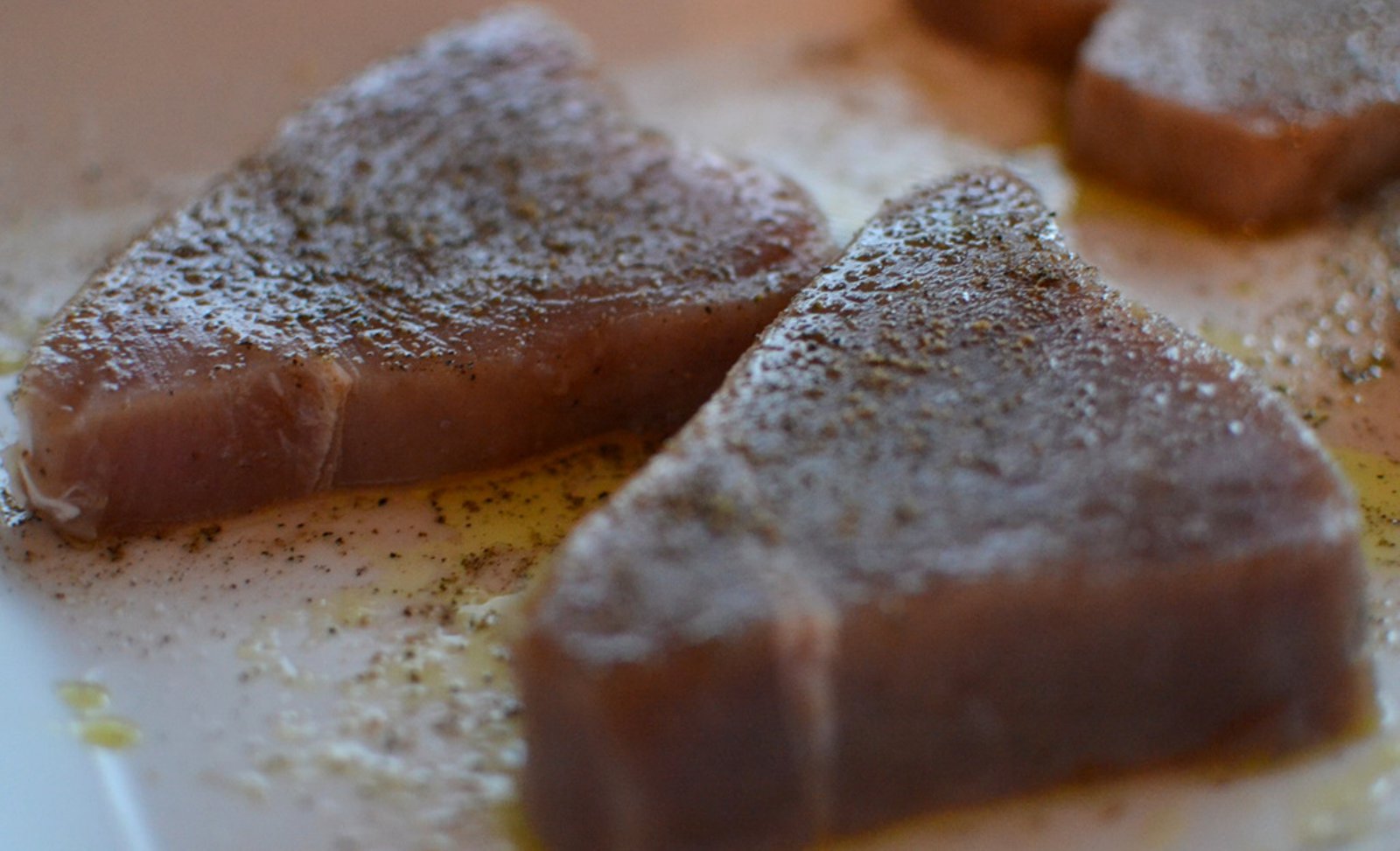 Tuna steaks
When the grill was schorchingly hot I put the asparagus on the grill, it had been treated in the same manner as the steaks. 2 minutes later I added the tuna on the racks. It only took 1-2 minutes on each side. It is not supposed to be cooked through - and should hold its colour in the center.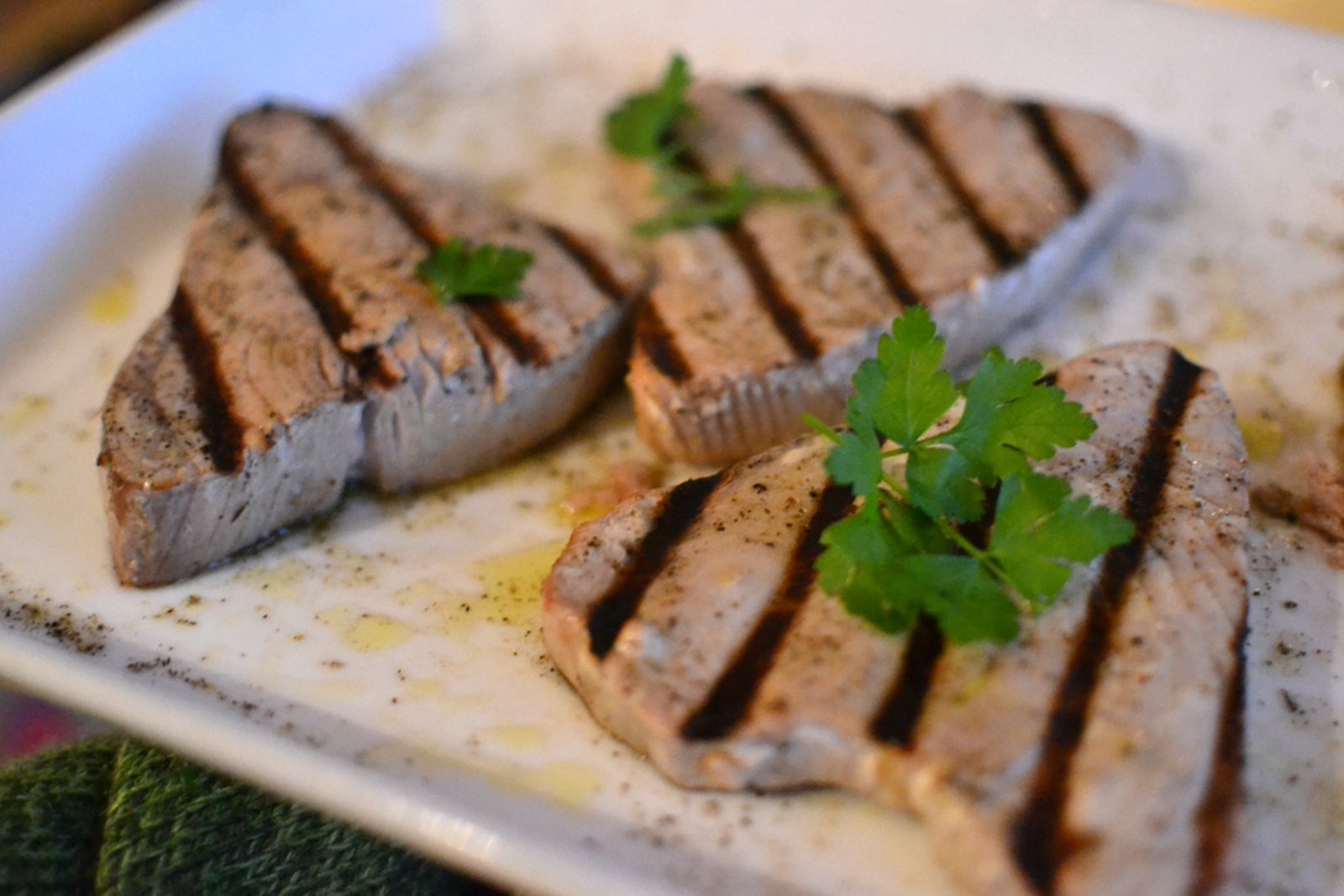 Delicious Tuna steaks
I have made this petit p
ois purée. It is one of my wife's favorite accompaniments so in order to please her, as I always aspire to, I made it! And it is surprisingly simple. Bring a pot of water to the boil. Salt the water. Toss into a bowl full of frozen peas and cook for 4-5 minutes. Drain and put back in the pot. Mash the peas with a tablespoon of cream cheese, a pinch of butter and season with salt & pepper. Taste - delish!
Montes Alpha Chardonnay
As this was a festive dinner, and even though it landed on a Monday we opened a bottle of white wine. This time it was Montes Alpha Chardonnay which is one of my favorite white wines. It is a potent wine from Chile. Scents of tropical fruits and lemon. Buttery, fruity on the palate with a long oaky finish. Good!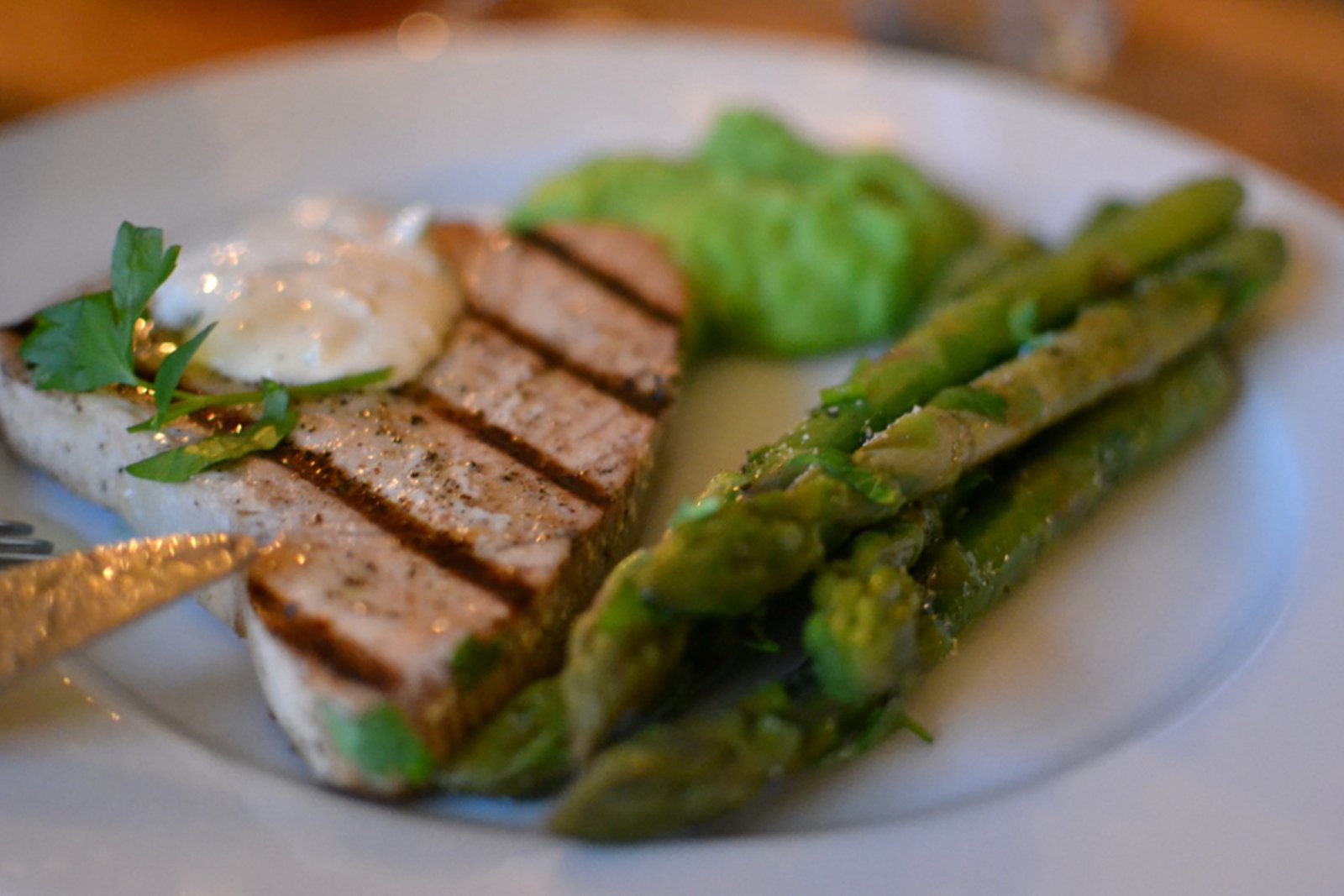 Plate up!
Bon appetit.