This is a dish from last season. This winter when scrolling through my photographs I came across these that were somehow left behind. But the meal was far from forgettable. This is what happens when you are really busy - cooking faster (and working faster) than the speed of typing (I just can't type this fast!). The pictures were from last summer when the grilling season was in its climax. I do, however, grill year round. Though much less seldomly during the winter, but it does occur. It
just
feels really cool firing up the grill when it is all covered in snow.
This is cooking in its rawest simplicity. If you put it on a scale - the potatoes were much more complex than cooking this tasty steak, and even they were simple. We have previously blogged about the perfect roast potato - and this was just that ...perfect!
Awesome T-bone Steak with Perfect Roast Potatoes and a Cold Horseradish Sauce
This is a short summary of previous accounts - we played by our own rules, and there is now reason to stray of the beaten path when you believe that you have reached the divine heights in the culinary sainthood. You can of course use any kind of spud - but i do believe that the floury potatoes fare better than those that are considered waxy!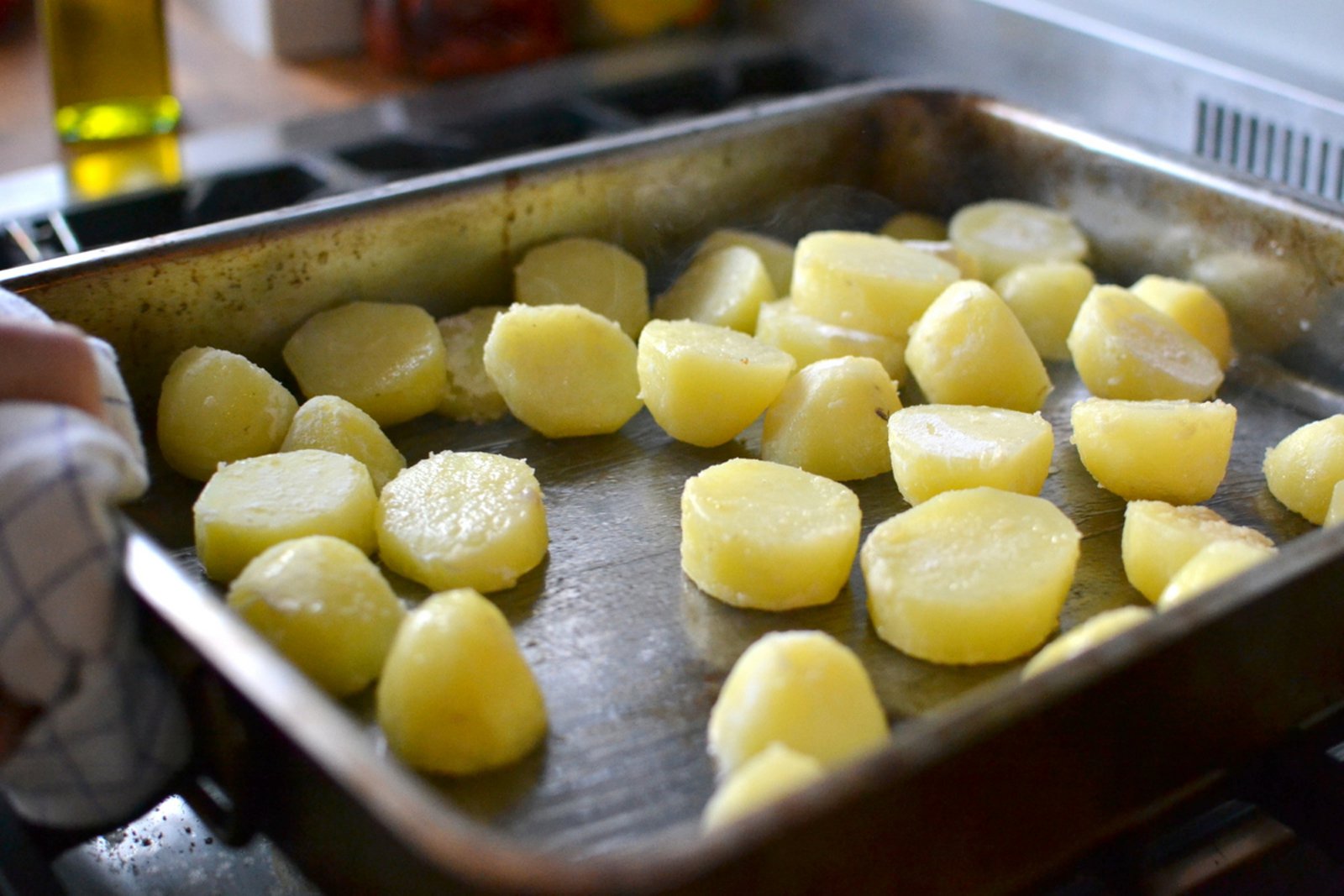 Preparing the roast potatoes
Peel the potatoes before boiling. This is an integral step, because the potato has to be boiled well enough so it will be easier to tear up the outermost layer slightly.

Boil in richly salted water. The potatoes are parboiled for only 7 minutes (not six and not eight, well, this rule doesn't have to be so holy). After the parboiling toss the potatoes around in a colander, but do so with care and grace, you want to just ever so slightly tear up the outer layer before it's fried in the hot fat, but without breaking them apart! While you are tossing them around, dust a bit of flour over them as well.

Place an oven tray on the hobs and add the fat of choice: vegetable oil, extra virgin olive oil, butter, garlic oil, or duck fat, whatever your heart desires, but make sure the fat is hot enough when you pour in the potatoes. The potatoes are subsequently fried in the oven tray for a couple of minutes, or until they have been nicely coated with the fat.

Season with salt and pepper. Now the opportunity is also ripe if you want to add some herbs, which will certainly not do any harm: Rosemary, thyme, and such tough herbs are perfect for this dish.

Place the oven tray into a preheated oven, 180-200 degrees, and bake the potatoes until they are beautifully golden brown and crunchy: The golden brown colour they develop is the archetype of golden brown!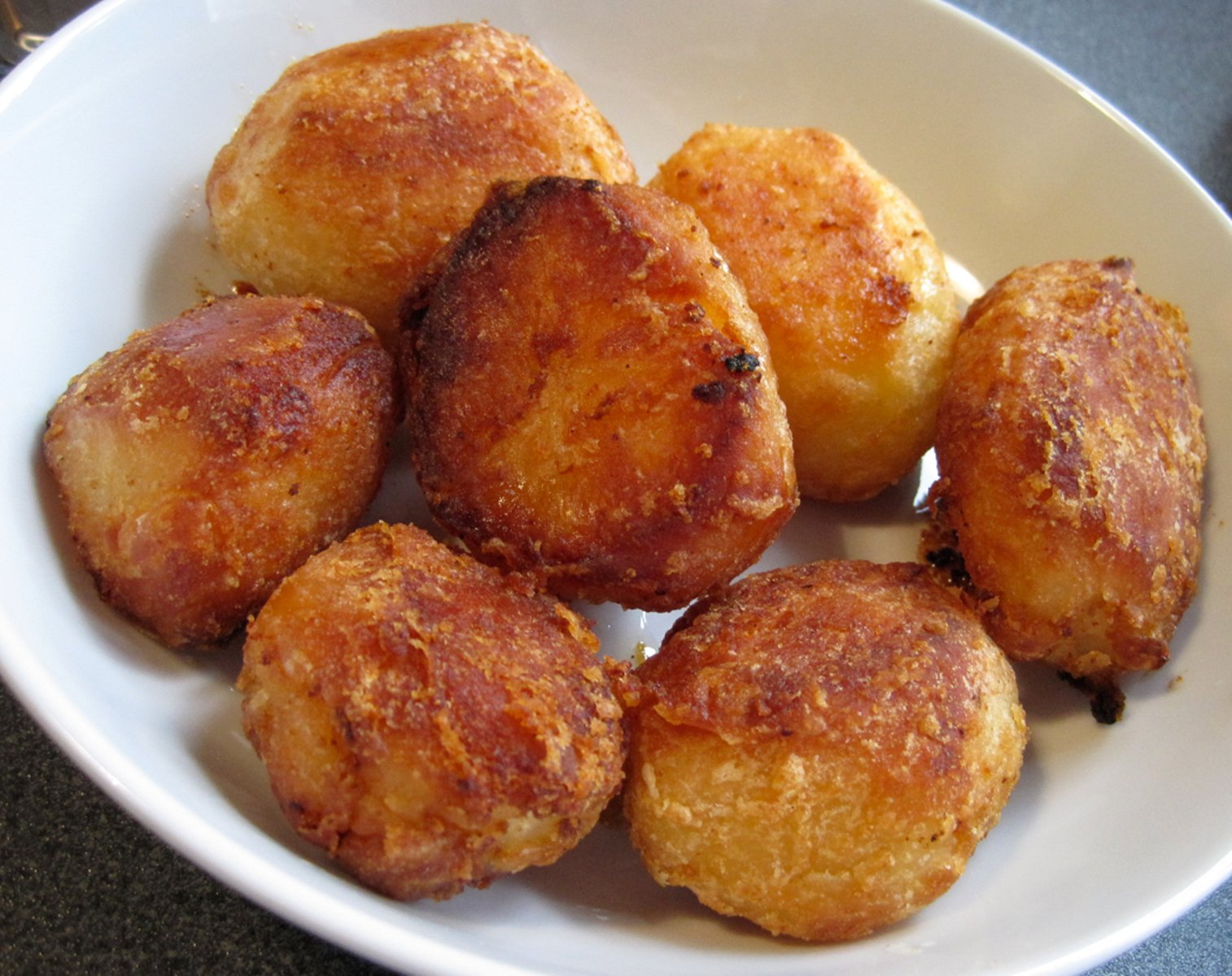 Just imagine biting into these, crunchy on the outside and fluffy on the inside!
While the potatoes are roasting the hot oven - fire up the grill. I have a really decent Weber Genesis BBQ that has a built in burner - called that searing station - that I think was intended for steaks of this calibre. It reaches a temperature - called inferno!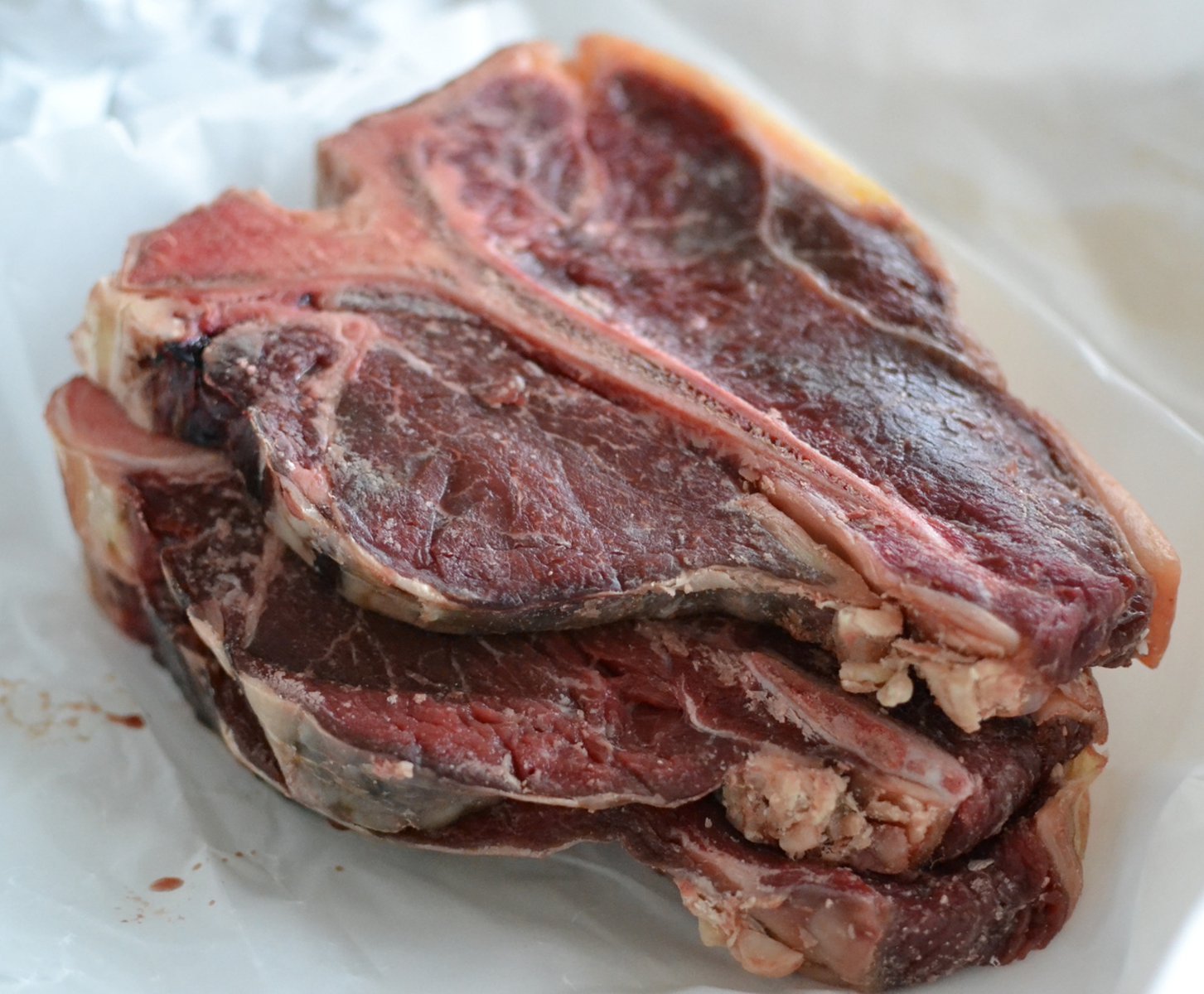 T-bone steaks
The steaks were purchased from my local butcher in the market hall in Lund. I have mentioned in earlier blogs how I favour this seller - for he can tell you everything about the product, where it is from and how it has been treated. He has visited the farmer and knows how the animals were treated.
Just before placing them on the grill I brushed the T-bones with oil and seasoned with salt&pepper.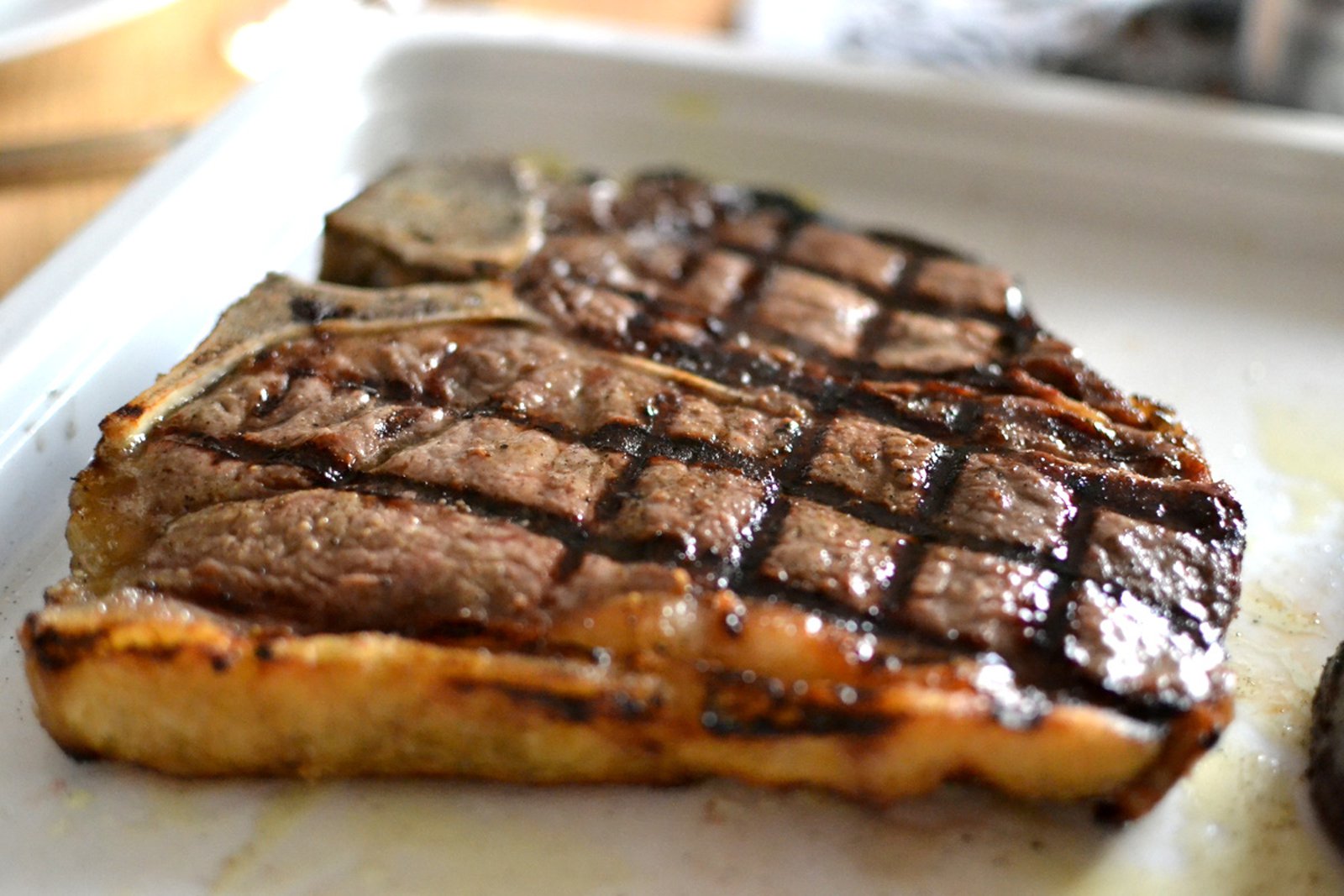 Is your mouth watering... It should be!
The sauce was as easy to make as they go! I used good quality creme fraiche (full fat off course - but you could use the lighter version). I added 2-3 tablespoons of grated fresh horseradish to 150 ml of the sour cream, then salt, pepper and a dash of agave syrup for balance. No more and no less!
Peter Lehmann Cabernet

Sauvigno

n
We enjoyed some red wine with our food. This time a bottle of Peter Lehmann Cabernet Sauvignon 2008 from Australia. This is a producer that has always been kind to my taste buds and I think I have tried the most he has to offer and never been let down. This is a classic Cabernet. Thick and dark in the glass. A potent scent of berries and oak. Full on the palate - fruity with tannins and oak. A wine that loves the company of a good piece of steak!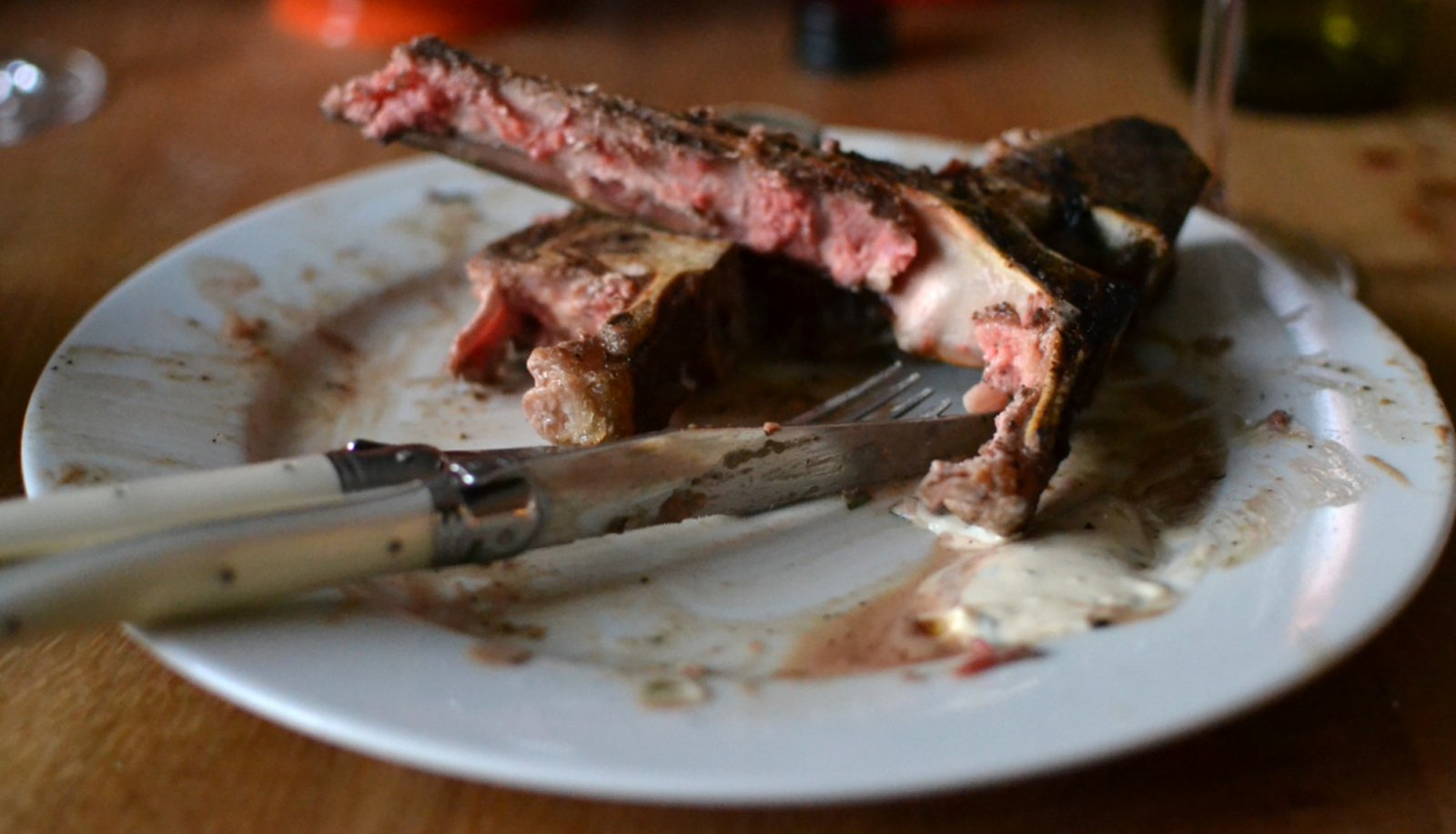 Post T-bone plate!
Bon appetit!
P.s. You are welcome to join me on Facebook: The Doctor in the Kitchen