Pan fried fish is a classic dish and very popular in Scandinavian countries. I presume that haddock would be the fish of choice in most Icelandic households. In Denmark and Sweden flat fish like plaice would be used most commonly. And it is a convenient fish to cook - it is very tasty and is quickly and securely cooked without much hassle. It has a certain sweet note that is a quality that haddock doesn't share. Haddock is not one of my preferred fish to cook.
I think I can thank my mother for my love (or rather lack of) for this particular fish, haddock I mean! She used to cook this fish in abundance, with great variability even, so my theory is that I simply overdosed on it - if that is then at all possible. Neither my father, brother or I had no preference to this variety early on. I think I had to move away from Iceland to be able to value it to a certain extent. The same can be said about other fish species - you learn to value them much more when you move from Iceland, a country that has plenty of freshly caught fish of outstanding quality. It is a fantastic resource that we Icelanders enjoy that has to be treated with respect.
I have posted on my Icelandic blog something about pan fried fish but I strayed substantially off the previous path. This time I made some sauce remoulade which is originally from France and was popular as an accompaniment with steaks. In Scandinavian countries it is used to compliment roast beef, hot dogs and then fried fish! The Scandinavians make a variations that is a quite sweet and sour and has a yellow colour, probably because of Turmeric which I decided not to do! I thought it would be interesting to hold true to the French roots but I exchanged the mayonaise for some light creme fraiche to be, now and again, on the lighter side of life.
Crunchy pan-fried plaice with sauce remoulade, potato salad and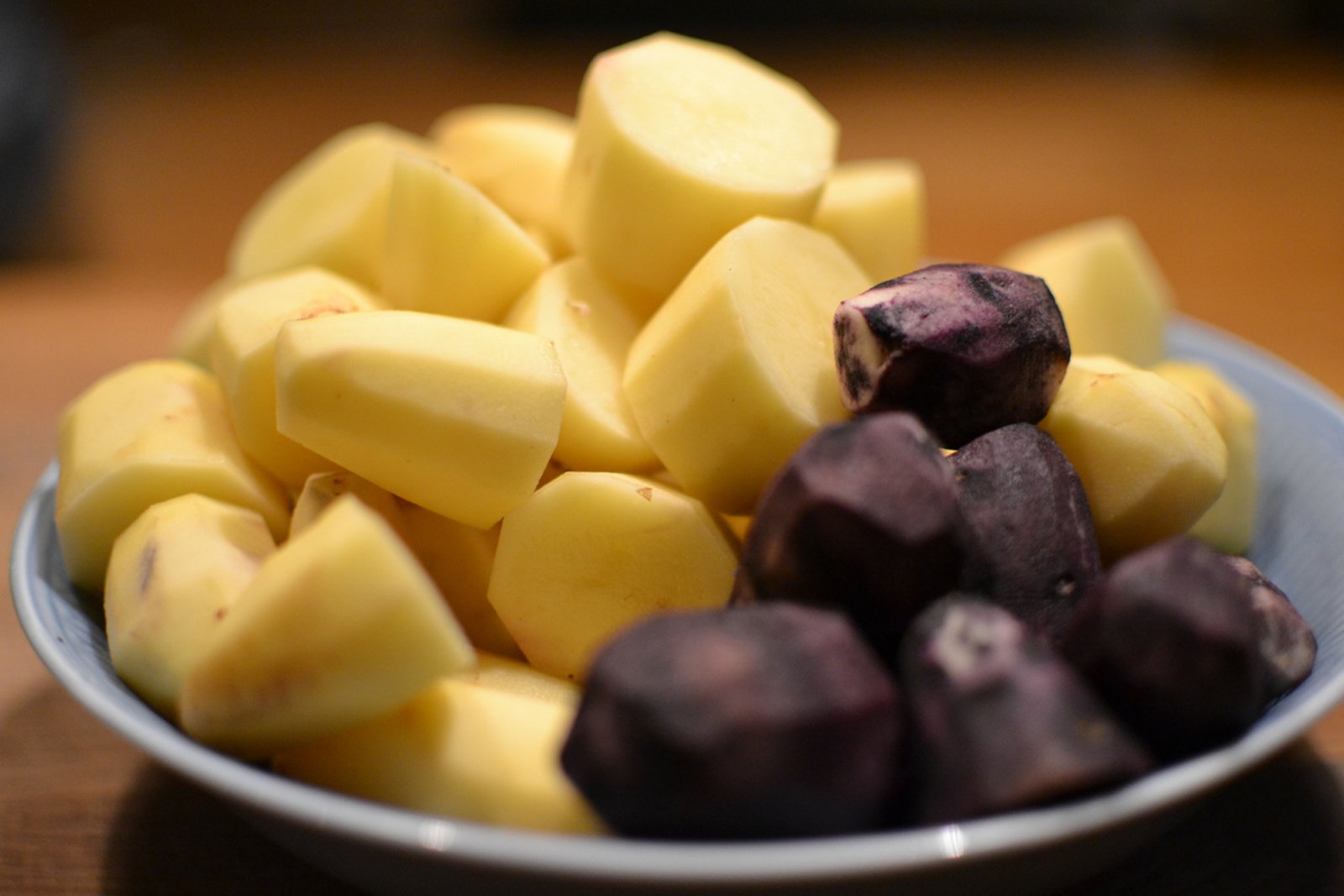 Is is normal to consider potatoes pretty?
These lovely spuds were recently available at our local supermarket. These interesting purple ones are called Blue Congo and the other ones are called asparagus potatoes (are oblong, althought that is not visible on the picture 'cause I had already sliced them down. I used about 700 gr of mixed potatoes which I peeled and then boiled in salted water for about 15 minutes (or until you can run a knife smoothly through them). Drain the potatoes and allow to cool for a few minutes before moving on to the next step.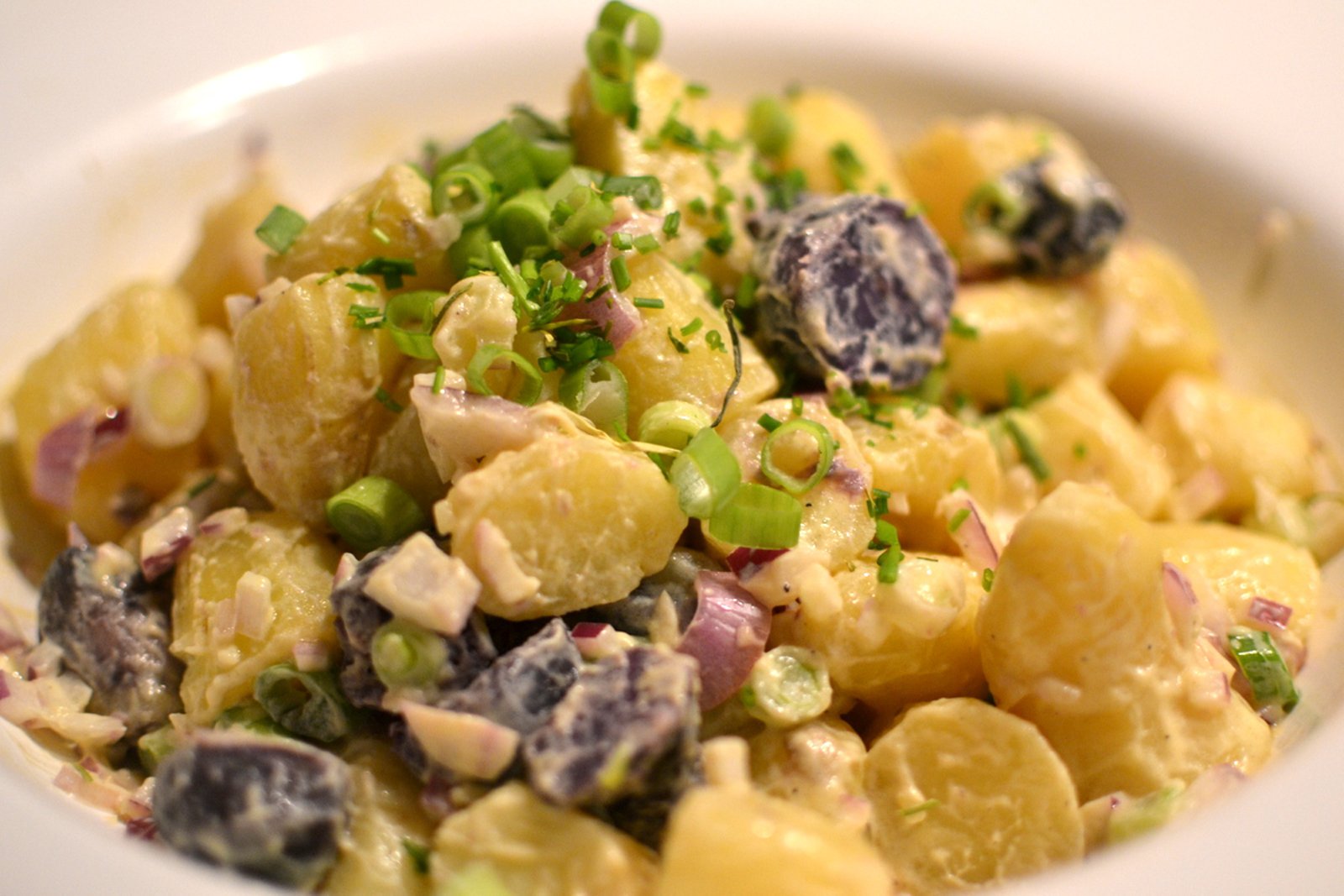 Lovely potato salad
Then slice down 3 spring onions, one red onion and put into a bowl. Then mix in the potatoes. The dressing is simple: 2 tablespoons of creme fraiche, 1 teaspoon maple syrop and 1 teaspoon of Edmont Fallot dijon mustard are mixed together. Seasoned with some salt and pepper. Stirred into the potatoes & onions. Decorated with some chopped chives and the tops of the spring onions.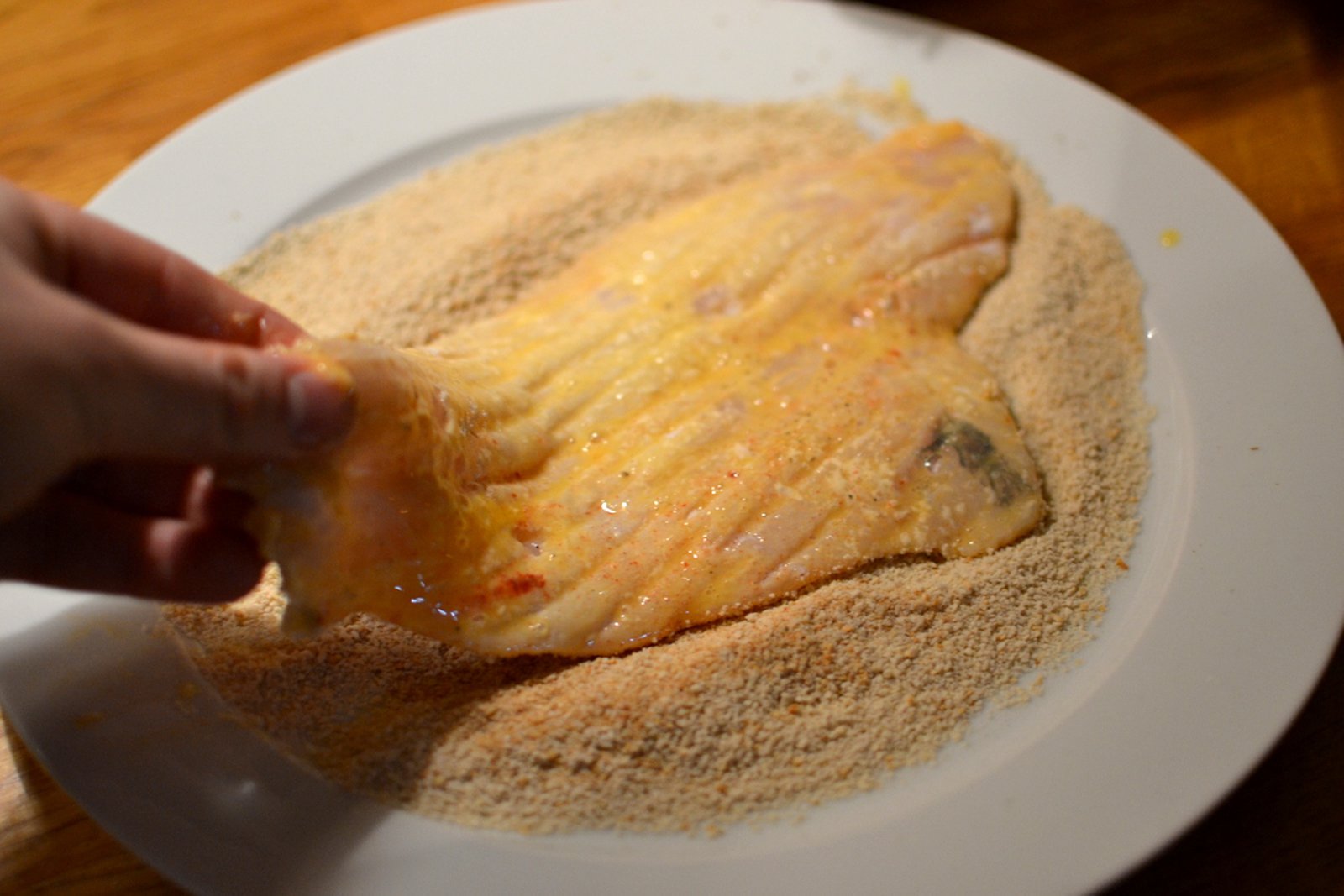 First the flour, then egg and lastly the breadcrumbs
When breading fish (or any other product for that matter; lamb, pork, Camembert cheese) it is important to season all steps of the process to ensure a tasty final product. Season the fish, the flour (I even added some garlic and paprika powder into the flour) and even the breading. That maximizes the flavour of the fish. First roll the fish in the flour, then dip it into the egg and then the breadcrumbs.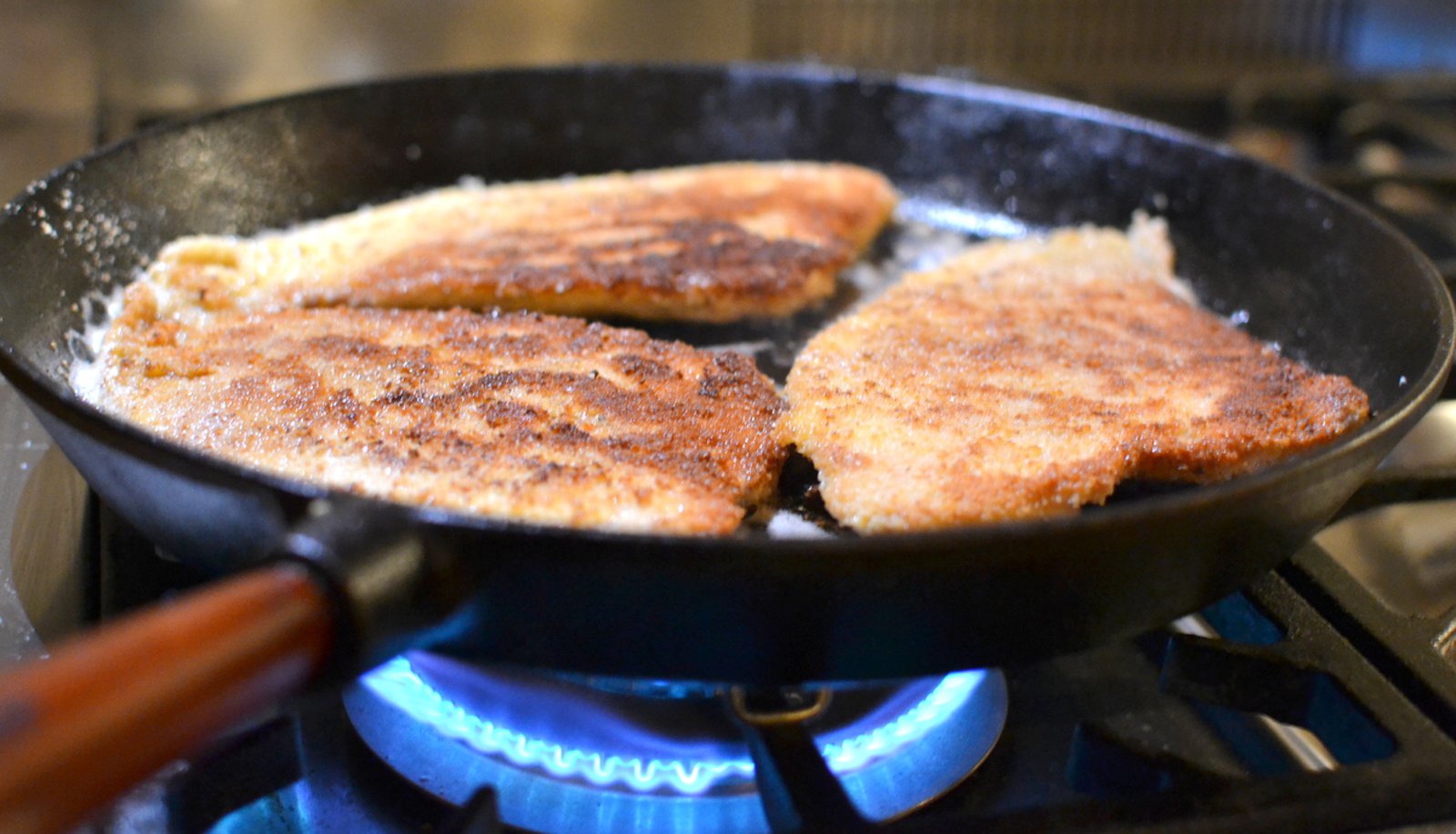 Fry the fish under medium heat
Then gently fry the fish in a mixture of butter and oil under medium heat. Take care not to overheat the oil - there is a risk of burning the outside while not cooking the fish appropriately.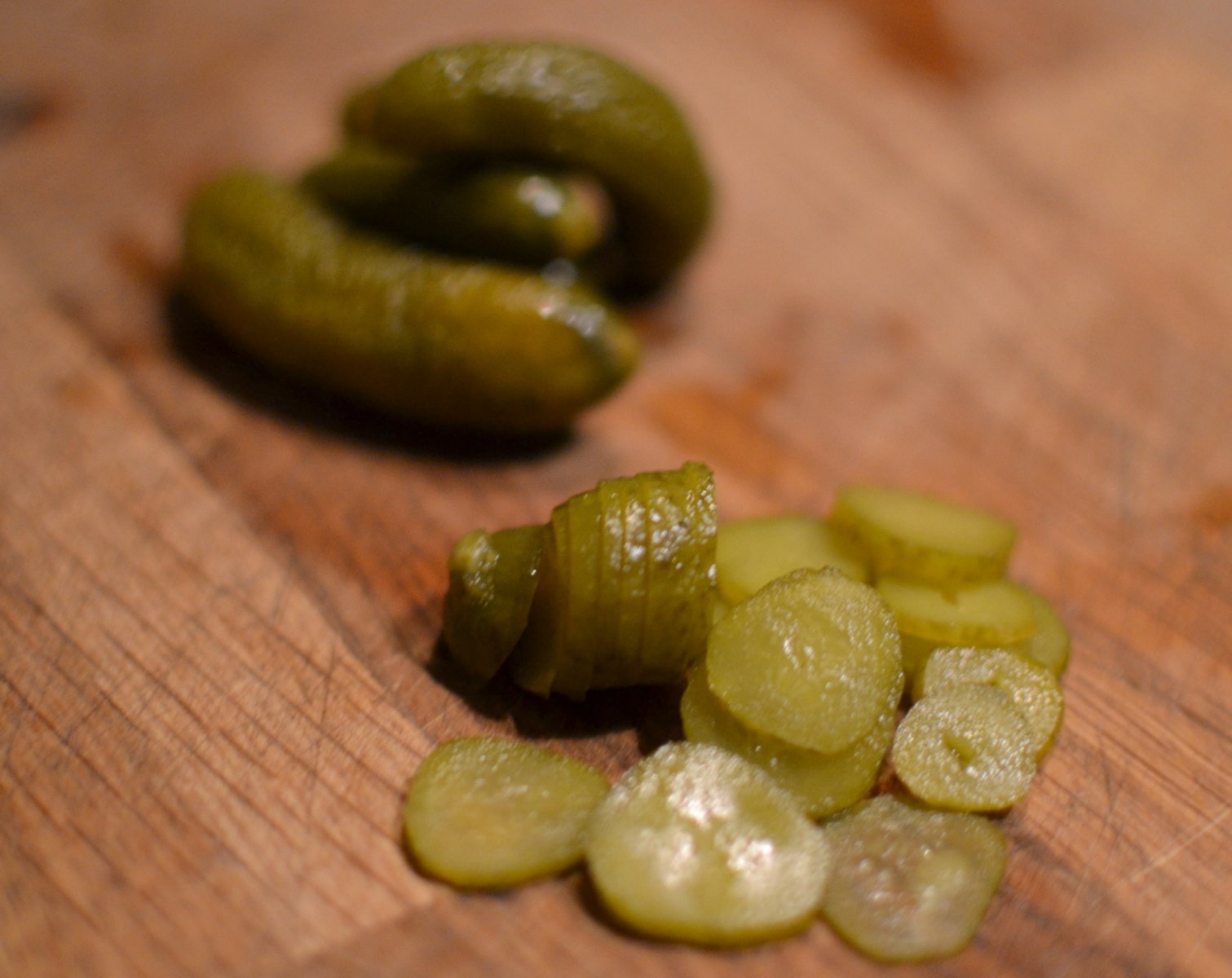 Cornichons are small pickles
As I said I made the sauce remoulade using french guidelines but eliminated the majority of the mayonaise.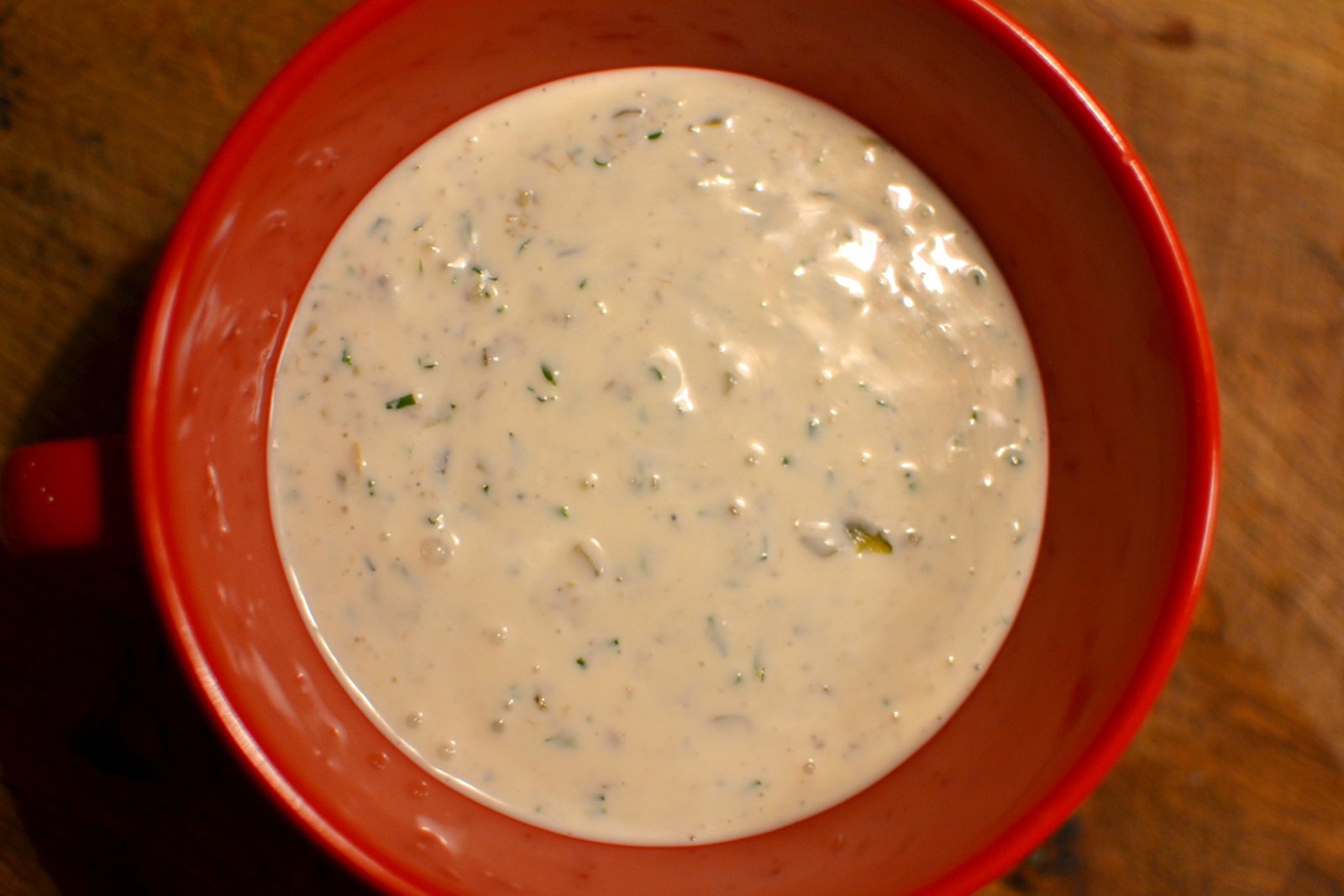 Sauce remoulade
For the remoulade I mixed together the following ingredients; 200 ml of light creme fraiche, 1 tablespoon mayonaise, 5 chopped cornichons, 2 tablespoons of chopped capers, 2 teaspoons of maple syrop, 2 chopped anchovy filets, 2 teaspoons of chopped parsley, chives, salt and pepper. Do not panic seeing the anchovy fillets in the recipe - they provide a salty base and generally lift the flavour of the remaining ingredients. Some call it the natural "third spice"
We served a simple salad with the food. To go with we drank this lovely Australian white wine. Cape Mentelle Sauvignion Blanc/Semillion from 2007. This wine has a pale yellow colour. Scents of sweet grapes, lemony notes. The taste of tones of apple, lemon and a mild acidity. A nice bottle of wine.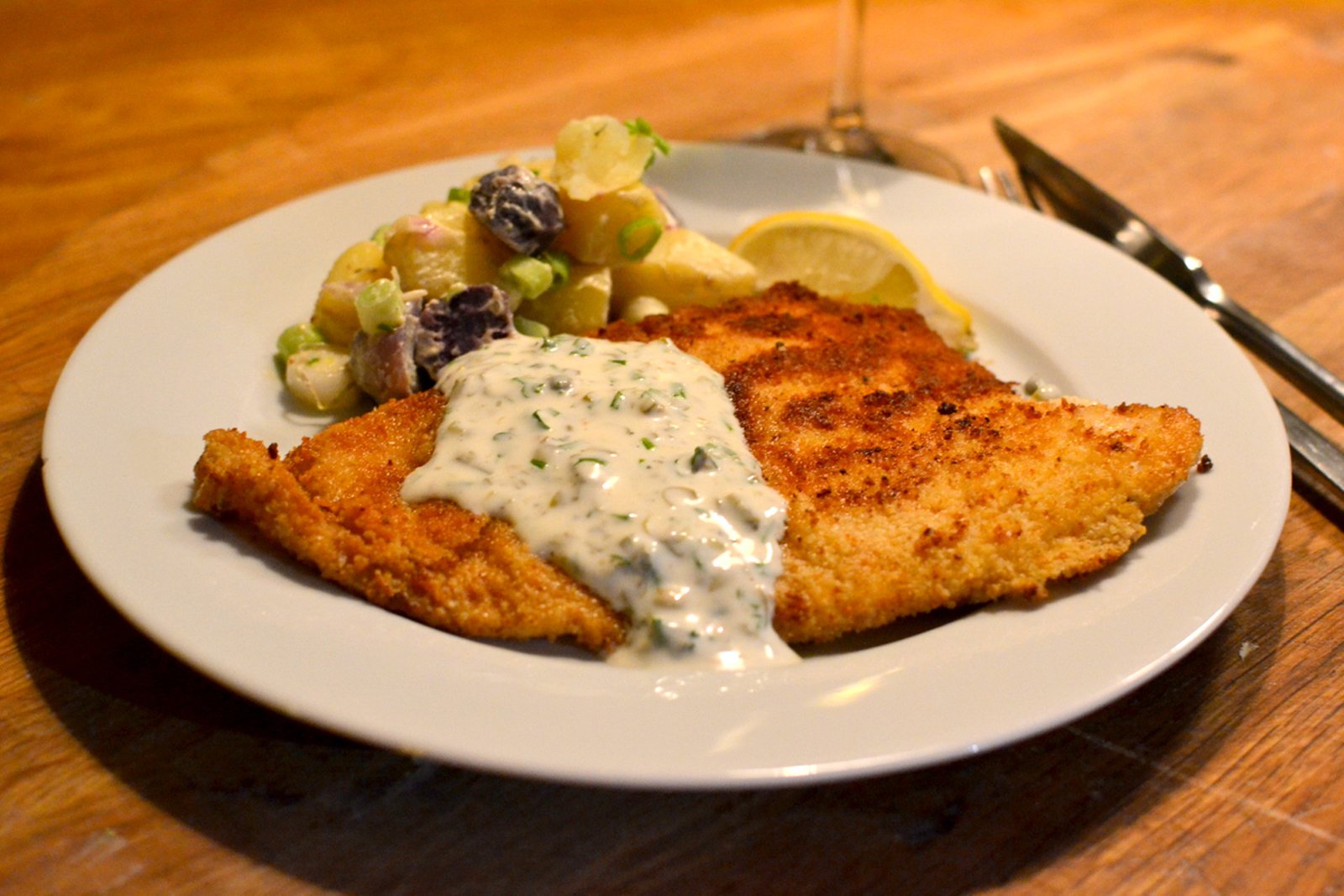 Fried Plaice with potatosalad and sauce remoulade
Bon appetit!